The home's fire pit, flanked by charcoal black Adirondack chairs, adds warmth on chilly nights outside by the water.The simplest fire pit of all is little more than a metal bowl, which may or may not come equipped with a grill top — just in case you want to do a little outdoor cooking — and a protective screen cover. They're great for small patios and courtyards.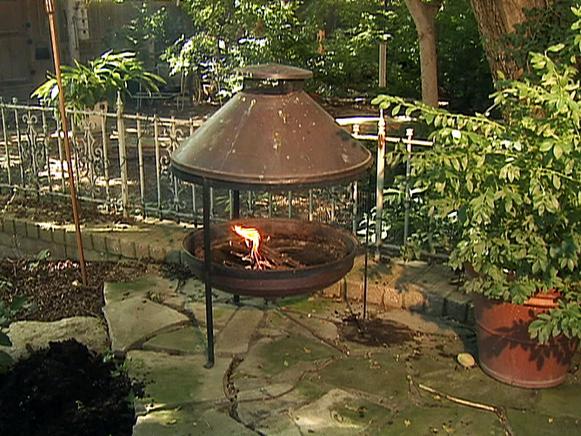 This fire bowl is the perfect size for a patio. The top prevents rain from getting into the fire pan, and its open sides allow you to add wood easily. Plus, you can get a stick close to the fire for roasting marshmallows. During the summer, these fire pits make great planters.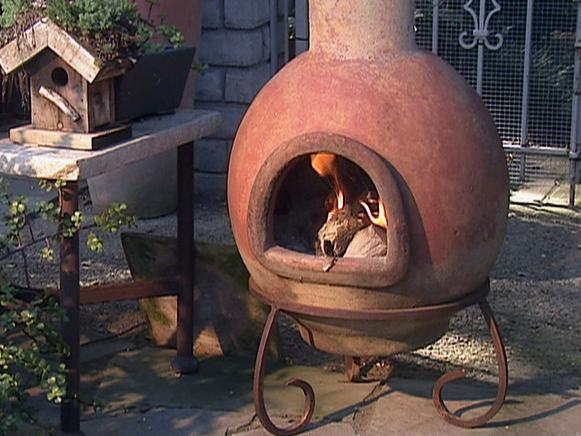 Chimineas arrived on the scene back in the 1980s, and they remain as popular as ever. They don't give off much heat, but the smell of burning wood adds a certain something to outdoor living. Good firewood includes pinion wood, alder, cedar, oak, hickory, mesquite, pecan and even fruit woods, such as apple and cherry. Don't burn pressure-treated wood in a chiminea or any other fire pit or fireplace because it may contain harmful toxins.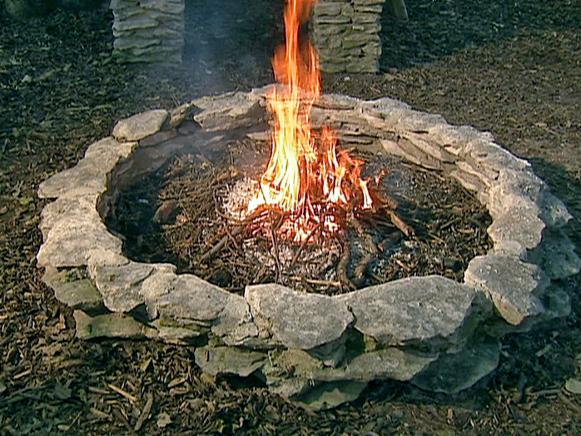 This pit is nothing more than a ring made from mortared limestone. Although you can't see it, there's a drain in the center that's connected to a pipe running underground and out into the lawn so that rainwater doesn't collect in the pit.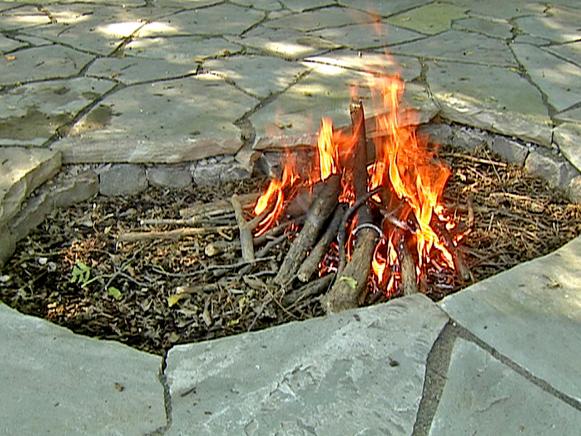 This fire pit also has a drain. It's designed so that the fire actually sits below the level of the stone patio, and the sight of flames shooting up from below is very cool. During the summer, the pit is a great place for a large potted plant.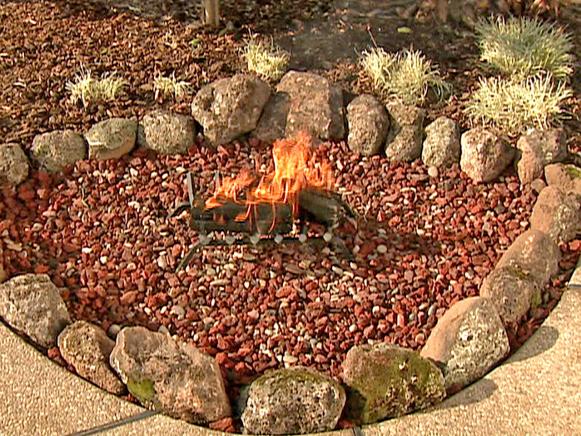 Fire pits can be very simple and inexpensive to install. This one, from start to finish, took two people just a couple of hours to complete, and the cost of materials was less than $100.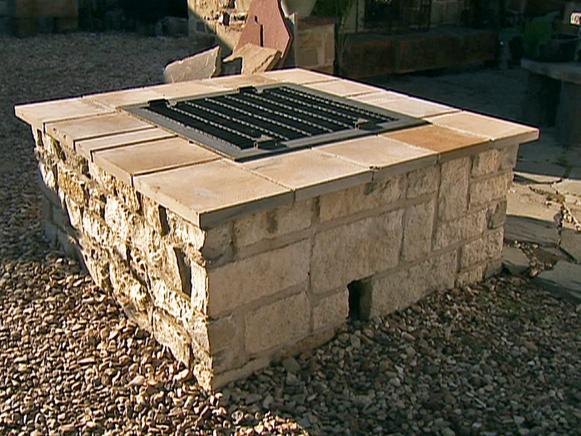 Fancier fire pits like this will cost you more, but do-it-yourselfers can easily handle the installation.
 Fireplaces are a different matter. They can get rather pricey, especially for custom models, but modular kits are available as well for less than a third of the cost. And there's no getting around the fact that they add a special touch to outdoor living, with or without a fire burning in them.
When it comes time to actually start a fire, there are a few things to keep in mind, the most important of which is to keep your fire small. There's no need for a blazing bonfire, and the bigger the fire, the greater the potential for disaster.
First things first, your fire pit should be at least 10 feet away from any structure or combustible surface. Before lighting an outdoor fire, check the weather forecast. Avoid windy conditions that can blow embers. Also stay up to date on any burn bans or burn ordinances that might be in effect at different times during the year. Doing some house cleaning, like picking up leaves and other combustible materials, around the pit is important to ensure the fire doesn't accidentally spread. Always have a container of water nearby and a garden hose on standby before starting the fire.
To get a fire started, put a crumpled piece of paper or a store-bought fire starter in the pit, and cover one or both with small sticks — the smaller, the better. As the fire begins to burn, add larger and larger sticks until you're finally able to add a log or two. But whatever you do, don't try to start a fire with gasoline. It's way too dangerous.
The best way to extinguish a fire is to take the ashes, spread them over a larger surface area and let them cool down for a little bit. Then take your small container of water and gently pour it over the ashes, but monitor it. Don't just throw some water on it and go to bed because it can flare up in the night. If you have a fire that escapes your fire pit and moves into a nearby pile of kindling or a combustible surface, immediately call 911.
There's no getting around the fact that wood smoke is a pollutant and that outdoor fire pits and fireplaces are completely unnecessary. In fact, in some cities, both indoor fireplaces and outdoor fire features of any kind are illegal. This isn't just because of the potential for fires, but because of the pollution they produce. That said, the decision to burn or not to burn becomes, for many people, a personal rather than legal one. Regardless of how you feel about the subject, we can all agree that fires are far more decorative than functional.
Alternative sources for outdoor heating:
Although they provide heat on a cold winter night, there are alternative sources for outdoor heating. The most popular are gas-powered heaters, which burn propane or butane. They look nice, and they heat a fairly large area, although if it's windy outside, the heat seems to blow away in the wind.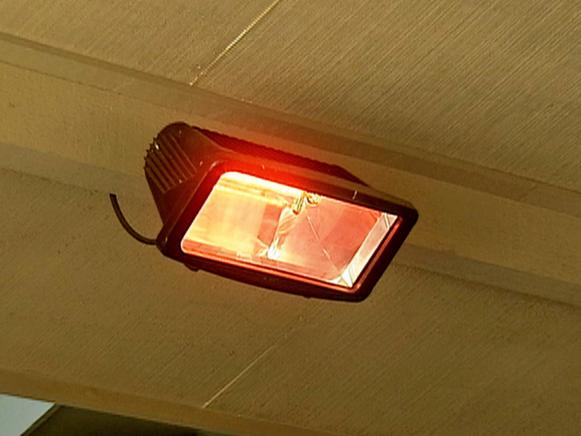 But the heat that emanates from infrared heaters isn't affected by the wind, and there are no fuel tanks to mess with. You simply plug it in, and you get instant, penetrating heat.  Brush up on basic fire pit safety before you build your next fire. Discover what steps you should take to keep your family safe.
Fire pit safety starts with selecting the right site. Make sure the ground is level, especially when using a portable fire pit. Keep fires located at least 10 to 20 feet away from surrounding plants, as well as from nearby buildings, including your home. Check with your local city and county authorities to make sure you observe the distance required by law.

Never operate your fire pit beneath a building overhang or in a partially enclosed space. Use special caution related to overhanging trees, which can easily ignite from flying wood-fire sparks. In fire-prone areas, surround your fire pit with non-combustible materials, like crushed stone, brick, or sand.

In wood-stoked fire pits, safety begins with fuel. Only burn wood that's been seasoned at least six months. Avoid using construction materials, such as plywood or composite woods, which can release toxic fumes when burned. Softwoods, like pine and birch, tend to produce more crackles and sparks than seasoned hardwoods, like oak or hickory. For wood-burning fire pits, cut logs so their length is less than three-quarters the diameter of the pit. Never use lighter fluid or gasoline to start a fire in a fire pit.

If your fire pit has a screen, use it whenever you're burning. It's also a good idea to have a bucket of sand or garden hose handy to deal with wayward sparks from wood fires. Attach a hose-end multi-pattern nozzle to the hose, setting it to "spray." A shower-type spray douses a flare up, while a direct stream of water can spread sparks. Keep fire gloves nearby to handle hot parts of the fire pit safely.

Position chairs so folks can rise and move about seats without risking tumbling into the fire. Built-in seating prevents seats from being drawn too close to the flames; so do heavier chairs. Keep an eye on children whenever a fire pit is being used. Don't allow them to get too close to the blaze.

Invest in a fire blanket to help extinguish sparks, the fire, and, if necessary, anyone who might catch fire. Also have a fully charged, dry-chemical fire extinguisher on hand with a Class B and C or multipurpose rating. Make sure you understand the effective range, which is typically 6 to 10 feet, and know how to use it properly. On gas fire pits, turn off the gas before attempting to extinguish a fire. Avoid lighting a fire in windy conditions.

When you're done enjoying your fire for the evening, douse it properly. Most manufactured fire pits offer specific instructions for extinguishing a fire. Review the instructions before it's time to put out your fire. Water can crack ceramic fire pits and some metal ones.